How Curtis Lazar won at happiness, career challenges, fantasy football
"Being thankful for what you get in this league, and every shift does wonders for you." — Canucks forward Curtis Lazar.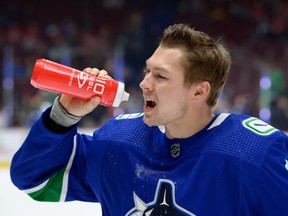 content of the article
Curtis Lazar's mug has a smile on it's face for a reason.
content of the article
Despite a career in the National Hockey League riddled with the heartache of struggling for goals, trades, healthy scratches, waivers, demotions, no qualifying offer, seeking free agency work and even contracting mononucleosis, you never would know that the Vancouver Canucks forward had a bad day in the game.
"I got advice from so many people because my career was so up and down and I was so close to getting out of the league," said Lazar, 27, a Salmon Arm native who moved to Vernon when he was 10 . "I had to define myself. Passion and fun have always been my backbone, but one thing is that you can't take a day for granted.
"Being thankful for what you get in this league and every shift does wonders for you."
And that says something.
content of the article
From the little hockey phenom who won gold with BC at the Canada Winter Games – and broke Steven Stamkos' event goal mark and Sidney Crosby's points record – to a Memorial Cup title with the Edmonton Oil Kings, U18 World and Junior World Championships with Team Canada, the first-round NHL draft pick had a whole book of pro prep work.
However, the stark reality of turning 41 goals into an NHL livelihood in his final season with the Oil Kings isn't easy. The pressure to reinvent themselves has pushed others to the fringes of their careers.
"I was very lucky," added Lazar, the eldest of four siblings who has played 425 NHL games in his career with the Canucks, Bruins, Flames and Senators. "My family just let me play. I could call my dad right now and say I'm done and he'd be like, "I'm proud of you, you had a good run and what's next?".
content of the article
"They allowed me to have the tools for what I wanted to pursue. And that's what I'm proud of, being a fourth-line guy who brings the energy. But you don't get the credit and I'm quietly going about my business and keeping my head high."
Here's our latest Q&A with the dedicated Lazar: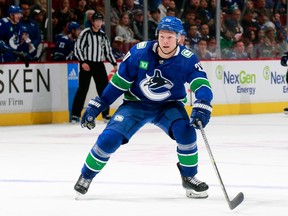 Q: How have you made a big fantasy football statement this season?
A: I didn't think we would have a league. When I signed here I spoke to a couple of guys and said let's make this happen. The banter is great. It's a great way for the space to come together and I just won the regular season pretty easily.
(Christian) McCaffrey, (Travis) Kelce and (Saquon) Barkley were my top three and I loaded running backs here and there for a little money and maybe made a trade. Talk to (Conor) Garland. He probably made it to 15. I stayed true to my team and went into the first round of the playoffs (with eight teams) with a few slips.
content of the article
I actually went toe-to-toe with Burr (Kyle Burroughs). I had Kenneth Walker, and to handcuff me he (Travis) took Homer, which forced me to play a different guy than I was planning to play Homer. The other guy left and Homer didn't, and it cost Burr the season.
So we kind of gave it to him, but it was great. It only attracts guys involved.
Q: When was your "aha" moment to know you have a hockey future?
A: I played with older kids at Salmon Arm and they didn't know if they would allow an underage child to play hockey. I took a seat for a child that was eligible to play and safety came into play. They held me back a year and I then I played Atom for three years and I think I got close to 400 points
That was kind of the moment. What can I do with it? Lets see what happens? I was head and shoulders better than everyone else. I just focused on the little details that eight and nine year olds shouldn't be focusing on yet. Then it was off to Vernon, Kelowna Academys and Junior.
content of the article
Q: How did Vernon get you into playing for Vancouver Minor Hockey?
A: I used to ride the Greyhound bus when I was 10, but for the first few years my dad took Fridays from work and I took Fridays from school and he drove me. A few glitches on the Coquihalla here and there over the winter but what great memories of spending time with my dad. That was wonderful.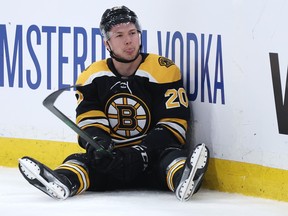 Q: Why do you remember your 87 games with the Bruins so fondly?
A: It opens your eyes. From afar, one hears of the culture and victorious heritage. It comes from people who mind their own business and treat everyone like family whether you've played a little or not at all. (Patrice) Bergeron is a model citizen and his style of play is quite special.
Q: That's fine, but did you grow up a passionate Canucks fan?
content of the article
A: Oh yeah. A life size Luongo poster. Loved the way Bertuzzi hit the net with a backhand. Kesler and Burrows and all the guys with heart and soul.
Q: What if hockey didn't work out? What was a plan B career path?
A: People may think it's crazy, but I'm totally focused on playing hockey and more importantly, being a good person. If you do that, you can build relationships and treat everyone well, and life will work out.
Q: Does that mean staying in the game when matchdays end?
A: I see the passion and observe it from the outside. The back and forth with coaches and breakdowns of the game and where the game is trending where. And to see how skillful the players are. I could definitely see myself staying there.
content of the article
Q: What did the recent first line time in Calgary with Horvat, Miller mean?
A: You build on it. People say a dude with two dots shouldn't be up there. But I will always play right and not cheat for my chances. You'll look good with that talent and I could have finished the game before penalties.
It's knowing that I can play that role, but it doesn't change who I am. It works wonders for your self-confidence.
Q: You were in the NHL when you were 19. Do you regret the course of your career?
A: So young and so many expectations and people look at you like you're a broke. How does this guy still play in the NHL? And when you're young, it affects you. I wouldn't change it. But could I have used a year in the AHL at 19? Probably. But the rule doesn't allow it.
content of the article
Canucks Q&A: Enforcer Craig Coxe never chose his jobs, he chose the right post-career life

Canucks Q&A: Brendan Morrison didn't have to fish for a franchise role offer

Canucks Q&A: John Garrett's ketchup connection was rooted in "stretching food."
---
More news, less ads: Our in-depth journalism is possible thanks to the support of our subscribers. For just $3.50 per week you get unlimited Ad-Lite access to The Vancouver Sun, The Province, National Post and 13 other Canadian news sites. Support us by subscribing today: The Vancouver Sun | The province.