Eby needs to take a big stick to his own government on housing
Opinion: The Prime Minister's admission and the insider report show that the provincial government is a major factor in BC's delayed number of public housing starts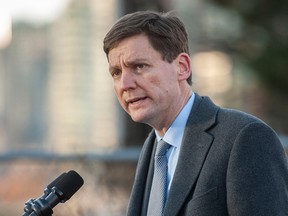 content of the article
VICTORIA – Premier David Eby admitted this week that one of the biggest obstacles to increasing the supply of affordable housing has been his own NDP government.
content of the article
"The demand for affordable housing is tremendous," Eby confirmed to The Vancouver Sun's Katie DeRosa. "For every one we were able to fund, we received five applications for new affordable housing from nonprofits."
content of the article
Proposals to build thousands of housing units are on hand from BC Housing, the Crown Corporation, which oversees the NDP plan to add over 100,000 units of public housing over 10 years.
Eby acknowledged the problem that same week when he announced $6.9 million in funding for 90 units of temporary shelters for the homeless on Vancouver's downtown Eastside.
The increase, while welcome, represents only a fraction of the estimated need for federally funded housing in this part of Metro Vancouver alone.
content of the article
Eby confirmed what local government leaders have said about the standstill in social housing construction.
Last month the Prime Minister's Office released a Homebuilders Association report showing that Coquitlam, Port Coquitlam, Port Moody, Langley, Burnaby and other metro communities were lagging in meeting housing targets.
This sparked enthusiasm among the mayors, led by Burnaby's Mike Hurley. His community had seven shovel-ready projects totaling 1,300 units that just need the green light from – you guessed it – BC Housing to move forward.
Eby pretty much conceded that the government was the raid.
"I cannot point to the cities without acknowledging that here too the province has an important role to play, in our own permitting processes, to ensure we don't hold up any housing that should be built," the prime minister told reporters. "I hope it helps cities see that we're not just pointing at them."
content of the article
BC communities have applied to BC Housing for funding to build 13,000 housing units. But the Ministry of Housing confirms that only 2,400 units were funded in the last full year, i.e. only one in five of the coveted permits.
The deficit of 10,600 units is roughly in line with the NDP's pledge to build 11,000 units of public housing every year for 10 years.
Not surprisingly, the government has fallen far behind on its goal. Eby claims 36,000 units are in the works, but that includes those that are registered and at various stages of construction.
Just 15,000 units have been completed — or 13 percent of the target of 114,000 units, with the plan (launched in February 2018) approaching halfway through the 10-year plan.
content of the article
The gap is doubly embarrassing for the New Democrats, who made affordable housing a key promise in the 2017 and 2020 elections.
The funding gap is difficult to justify. The government posted a surplus of $1.3 billion last fiscal year and forecast a surplus of $5.7 billion for the current year ending March 31.
But besides funding project permits, there are other obstacles, as Eby knows well, having served as housing minister for most of the past two years.
He seems to have spent much of that time turning BC Housing on its head. He ordered a review of the agency by Ernst and Young. It came back last spring with some highly damning findings and dozens of recommendations for tightening permits and meeting housing targets.
content of the article
Eby responded by sacking the NDP-appointed board and replacing it with a no-nonsense group of current and former senior officials, including a former Deputy Auditor-General.
Soon after, longtime BC Housing CEO Shayne Ramsay resigned, saying he no longer had "the confidence that I can solve the complex problems we face at BC Housing."
In his final days as housing minister, before resigning to seek NDP leadership, Eby also ordered a forensic audit of BC Housing, which is ongoing. However, he only announced this in lawmakers late last month.
Another report surfaced this week to complete the picture of BC Housing as a troubled, dysfunctional agency. The report, obtained through an information request by BC Liberals, documents exit talks involving more than 100 staff who have left BC Housing, many of them under Eby's supervision as minister in charge.
content of the article
Despite the NDP's decision to suppress about 75 percent of the report, the surviving content confirmed that the retiring workers couldn't wait to get out the door due to declining morale, excessive workloads, a lack of resources and their sense that an agency was let down.
Despite this, Eby continued this week to try to blame the previous government for "the housing crisis we see all around us".
For all the failures of the Liberals – and there were countless – the affordability problem has worsened under the NDP.
The situation isn't likely to improve either, with thousands of units clogged in the pipeline due to the lack of funding and other issues at BC Housing.
Eby has promised a carrot-and-stick approach to persuading local governments to increase housing supply.
content of the article
Before blaming someone else for the affordability problem, he should first raise a big stick at his own government.
Vaughn Palmer: If there isn't a big improvement in ICBC finances, Eby could face a dumpster fire himself

Vaughn Palmer: The Department of Health continues to erode public confidence

Vaughn Palmer: The frustrated David Eby can only accuse his predecessor of election speculation
---
More news, less ads: Our in-depth journalism is possible thanks to the support of our subscribers. For just $3.50 a week you get unlimited Ad-Lite access to The Vancouver Sun, The Province, National Post and 13 other Canadian news sites. Support us by subscribing today: The Vancouver Sun | The province.