Letters to Sun, Dec. 17, 2022
We forget the fact that most of the sports that are part of the Olympic Games have their own world or other high-level championships.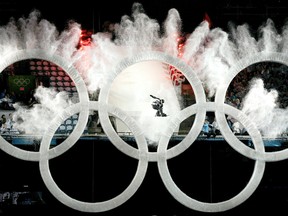 content of the article
Subject: Daphne Bramham: No should mean no, especially when it comes to the Olympics
content of the article
Daphne Bramham's column on the inadvisability of funding another Winter Olympics in BC is correct. While I appreciate the efforts and achievements of Olympic-level athletes (and – as an official – have started many such athletes), we lose sight of the fact that most of the sports that are part of the Olympics have their own world or have other high-level championships. The Olympics are just another World Cup with nicer medals and bigger TV ratings.
content of the article
The main beneficiaries of such international spectacles are politicians (who want to curry favor with local sports fans in anticipation of the next election) and sporting VIPs – those people who, through their history of high-level sporting achievement and continued administrative involvement, continue to attend such festivals, to catch up with old friends and bask in memories of past glories. Therefore, before local, provincial, and federal governments agree to fund such a party, they should ask themselves three simple questions: (1) Who will pay for this party? (the average taxpayer); (2) Who will benefit most from this party? (Politicians and individual sports VIPs and followers); and (3) how much overlap is there between these pools of people? (probably not very much).
content of the article
For the average taxpayer and citizen, hosting an Olympics doesn't seem like such a good deal. Better spend our tax dollars on services we all need.
Bill Koch, West Vancouver
Predators exist in all industries
While I agree with most of what Daphne Bramham had to say about Vancouver's ebb and flow as hosts of more Winter Games, I was surprised when I read the last two paragraphs.
Top athletes are driven to peak performance because they live and breathe their sport. To us, they are entertainers – like actors on a stage or in a movie. That's why it's such a money-intensive industry. It's been no secret over the years that the film industry is full of predators (e.g. Harvey Weinstein). So why is it so surprising that the fight for the top in sport is different? Predators exist in all industries—especially ones that involve participants who would do anything to make a living doing what they love, trusting someone to abuse their power and for the wrong reasons on the job is. I agree that it should be exposed and addressed – and it obviously is. But abuse of power in all walks of life has been a human condition for a millennium.
content of the article
Gord Maxwell, Port Coquitlam
Concerns about ICBC no-fault insurance
I am generally a supporter of BC's NDP policy and voted for the NDP in the last provincial election, largely due to its success in dealing with pandemic-related issues. However, as of this writing, I find my support wavering given the current ICBC situation. While I was relieved to see auto insurance rates becoming more affordable, I am very concerned that the rate reductions will come at the expense of those injured in any way by an ICBC insured driver. The media has highlighted some serious stories where no-fault insurance has significantly failed the injured, and I'm nervous for me and my family members who ride bikes, use crosswalks and sidewalks, and otherwise just share the roads as drivers or passengers.
content of the article
I don't think this is the right time to lower or freeze insurance rates. Rather, it is time to regain some balance to make the system as a whole fairer. It is true that the number and cost of legal proceedings has risen to the point where change was needed, but we have moved so far to the opposite side where there is no protection or remedy for persons found at one accident were injured. After all, how is it possible for the driver of a legally parked car to see insurance premiums increase because another car hits him? This is completely unacceptable and defies all logic. Please return some of the protections to innocent parties in collisions. No-fault insurance comes at a price, and I don't want this to be a gamble for anyone.
Tami Copland, North Vancouver
---
Letters to the editor should be addressed to [email protected].
---
More news, less ads: Our in-depth journalism is possible thanks to the support of our subscribers. For just $3.50 per week you get unlimited Ad-Lite access to The Vancouver Sun, The Province, National Post and 13 other Canadian news sites. Support us by subscribing today: The Vancouver Sun | The province.