Letter to the editor: McKenney sounding more and more like Clinton
Here are today's letters to the editor of the Ottawa Sun.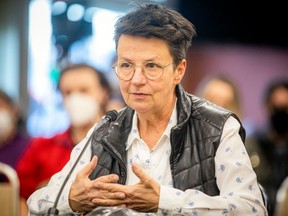 content of the article
'BASKET OF THE CONSCIOUS'
content of the article
Subject: 'transphobia left behind'; Prejudice, bigotry inflicted by some convoy occupiers persists, the ex-councillor told an inquest Dec. 11
content of the article
Losing mayoral candidate Catherine McKenney is sounding more and more like Hillary Clinton. They are obviously still aching from the beating they received from Mark Sutcliffe.
McKenney appeared before the Ottawa People's Commission on the convoy crew on Saturday to lament how terrible conditions were downtown. Apparently that was due to the convoy crowd McKenney said leaders wanted to overthrow the government. They went on to say that the same high-level group recruited people who were racist, racist and homophobic. They might as well have repeated the same line as Hillary Clinton that they were a "basket of the unfortunate."
content of the article
Funny, I attended the protest on three separate occasions including the first full day which was Saturday. I saw and spoke to many people, but there was no violence, absolutely no homophobia and no racism. In fact, there were very many non-white people there, including many Sikhs who make up a significant portion of the trucking population in this country.
All I can say is that the city's voters avoided a major catastrophe in November.
STEPHAN FLANAGAN
OTTAWA
(Thanks for writing.)
FAULT AND DEATH
Think about it: Most politicians think they are equal to God. Why else would they condone medically assisted dying for reasons that have been political failures and they have no idea how to fix such as lack of affordable housing, lack of timely access to medical care and mental illness as the only condition when these types of people used to be cared for in institutions closed by politicians to be sent out onto the streets to get on with their lives?
content of the article
I think they should attend their last minutes and let them know how they care and how they work for them.
PETE MCLELLAN
BROCKVILLE
(Roll out the bureaucracy.)
DO NOT STUDY ALONE
Re: New Year's Eve dining in style; Top Chef Offers Dinner for 4 for Just $20 on December 7th; and Glutton for punishment; Competing eater tackles the Mac Daddy, November 19th
Ottawa chef's $20G dinner isn't the only gut insult. How about the other pig-out at the end of November? Mac Daddy Challenge? More like the Me Dopey Contest.
At a time when many people are financially stressed to buy enough groceries to support their families and others are dependent on food banks, the socially insensitive Wellington Diner is hosting a gross chow-down contest with a guy who's the Traveled the continent in the competitive dining circle, stuffing his face for fame and fortune.
No pathetic donation from The Wellington Diner or Atelier to a charity of their choice can make up for these publicity stunts.
Wake up guys and try some humanity. It's season, you know.
DYAN CROSS
OTTAWA
(Santa Claus is watching this time of year.)
YOU SAID IT: Vain words from Watson

THEY SAID: Should change their tune