Ottawa's future Christmases could look a lot greener in the future
Will future generations have a white Christmas in this town? Environment Canada's chief climatologist says the odds aren't too good.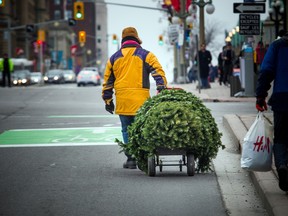 content of the article
As you head south and west from Ottawa towards Toronto in late December, you leave the land of snow behind and enter a murkier, grayer landscape where robins still pull worms out of the lawn.
content of the article
Decades ago, Toronto wasn't like that. There was mostly a white Christmas.
content of the article
Decades into the future, Christmas in Ottawa will often look much like Toronto does today, according to David Phillips, Environment Canada's senior climatologist and popular weather explainer.
Some people dream of a white Christmas. Phillips measures them.
He recently updated Christmas snow statistics across Canada, a database going back 67 years. And it shows a greening trend.
During that entire period, Ottawa had a white Christmas 79 percent of the time. (And yes, there's an official definition for this: Those are years our airport has had at least an inch of snow on Christmas morning.)
But within that time we have seen significant changes.
content of the article
In the first 25 years of these years, 84 percent of our city had a white Christmas. In the past 25 years, it has only been 72 percent white.
He has more numbers: In the first 25 years of this period, the average snow depth in Ottawa was 17 centimeters. But over the past 25 years, it's averaged 15 cm.
Across the entire database there were four Green Christmases in the first half (33 years) and eight in the second half (34 years).
The problem isn't that there's a lack of snow in December. Ottawa typically gets about 30 percent of its snow in December.
But December is a border month, a hesitant beginning of winter, which also brings a lot of rain, the snow melts. And Ottawa's average December snowfall has declined about 10 percent over the past 50 years, while rainfall has increased 11 percent. The average temperatures in December rose by about 1.5 degrees during this period.
content of the article
"That's one of the reasons why the white Christmases are becoming rarer," Phillips said in an interview
He also looks ahead and, using projections of a warming climate, asks: Will future generations have a white Christmas in this city?
The odds aren't that good. ("It's a bit speculative," he warns.)
From the beginning of records until about the late 1990s, the average temperature in Ottawa in December was -7°C. (That's the midpoint between all the highs and lows for a month.)
But climate projections for 2035 and 2065 show mean values ​​of -4.6 C and -1.9 C, respectively.
So what would that look like?
"The closest I could find would be Toronto," he said.
"Now when we look at Toronto, it's about what Ottawa would be like in 2065."
content of the article
If that comparison is solid, then he believes Ottawa might only have a 40 percent chance of a white Christmas each year.
"It's not going to be zero (chance). But it takes much more than just dreaming: you would also need to pray for it."
Snow would also be flatter if it stayed on the ground.
As with all environmental changes, nature will have winners and losers in a changing climate.
"The bottom line is that this landscape and its natural components took about 10,000 years to thrive under 'normal' circumstances," says Ottawa naturalist Dan Brunton.
"However, the myriad significant consequences of ecological instability and direct damage to various living elements of our landscape trying to work with an unnaturally rapid and dramatic change are only just being calculated. But from increasingly powerful storms, to the increasingly severe impact of newly arriving non-native invasive species, to the direct impact of heat and drought after such light winters… it's everywhere."
content of the article
Birds are already showing the way.
Across North America, birders conduct annual Christmas bird censuses—each a census of birds sighted in a carefully defined area. The tradition dates back to 1900 and forms a huge pool of data about nature at Christmas.
Eastern Ontario birder Bruce Di Labio, who has conducted 52 bird censuses annually, says formerly southern species are continuing to migrate north. Example: In the 1960s, a northern cardinal was "super rare" here, but they're widespread now (with the help of backyard feeders, he says).
Other birds continue to fly south, but now later in the fall. "Hermit thrush (and) gray catbird stay later," he said. In the past "it would have been exceptionally rare to have one," but now they're showing Christmas more than not.
Phillips often speaks to people about climate change and notes that many of us focus on disasters — storms, floods, droughts.
For him, the white Christmas issue offers a different perspective: a "gradual change" that isn't always spectacular, but makes "little subtle changes in life".
"I've often said: If only we could celebrate Christmas at the end of January. December is a snowy month, but it comes and goes."
Snowstorm no problem for Santa Claus and 700 friends for the Christmas breakfast party

"Significant" storm expected shortly before Christmas: special weather forecast