Canada mandates noisemakers on hybrids and EVs
Artificial sounds from these naturally silent cars let pedestrians and cyclists know they're close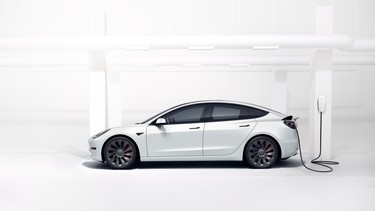 content of the article
If you've been thinking about buying an electrified vehicle because you can sneak home late at night without being heard, your plans have been thwarted. The Canadian government has ordered all hybrid and electric vehicles (EVs) to include devices that make noise at low speeds, effective immediately.
content of the article
We apologize, but this video could not be loaded.
Canada mandates noisemakers for hybrid and electric vehicles
Back to the video
Pretty much anything you buy with an electric motor already has a sound device, but it's now mandatory on all light electric vehicles sold in Canada. This includes cars, SUVs, trucks, buses and slow-moving vehicles with a gross vehicle weight rating of 4,536 kg or less – virtually anything the average consumer will buy.
The car manufacturer can decide What Kind of noise the car will make – most of the ones already fitted produce a continuous tone – but the mandate requires the volume and pitch to be adjusted so that those nearby can tell if the vehicle is accelerating or decelerating. It must also make a sound when reversing. The Canadian requirement conforms to similar standards set internationally, including in the United States. Overall, the volume of the artificial noise must be at least comparable to that of a petrol-powered vehicle.
content of the article
Recommended by the editors
Driving into the future: Does switching to an electric car really save money?

Used Guide: 5 tips before you buy that used hybrid
The mandate affects all people who are in the vicinity of the vehicle. Hybrid and electric vehicles do not make much noise, if any, at low speeds and therefore pose a risk to pedestrians, particularly those with visual impairments, or cyclists. The Department of Transport reports that between 2013 and 2017 there were an estimated 19 deaths and 991 injuries in collisions between hybrid vehicles and pedestrians, and three deaths and 523 injuries to cyclists. A study by the US National Highway Traffic Safety Administration (NHTSA) found that hybrid and electric vehicles are about 20 percent more likely to collide with a pedestrian and 50 percent more likely to run over a cyclist than gasoline-powered vehicles.
content of the article
Although EVs produce virtually no noise from their motors, at higher speeds they produce the same tire noise as similarly equipped gasoline vehicles. The problem is when moving at low speeds across parking lots or turning at intersections, pedestrians and cyclists won't hear them approach unless they have sound generators.
In case you haven't listened to the cars coming your way, hybrid and electric vehicles being sold in Canada are already making noise because they meet US and international standards. But just to be sure, Canada now has the mandate on its books too, and it appears to be primarily due to pressure from interest groups for people with visual impairments and disabilities.