Newsmakers 2022: Ottawa's devastating derecho
It was only minutes before cold air blew east from Michigan into Ontario, forming a violent storm. The result was devastating.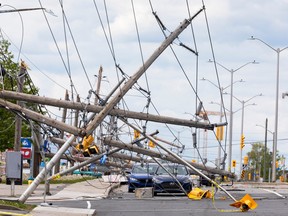 content of the article
It only took minutes. On May 21, cold air from Michigan blew east into Ontario, creating a violent storm that reached Ottawa in the afternoon. The result was devastating.
content of the article
Winds of 120 kilometers per hour downed 400 water poles and countless trees across the city. Nearly 180,000 homes and businesses in the greater Ottawa area were left without power, some for a week. The storm destroyed cars, homes and businesses.
content of the article
The cleanup took months, and the effects of the storm, thought to be a derecho because of its long-range reach and rectilinear motion, are still being felt seven months later.
Navan, where Catherine Kitts, Councilor of Orléans South-Navan, lives, was a particularly hard-hit area.
"Navan is a small, tight-knit community — Sarsfield as well as Carlsbad Springs," said Kitts. "There was a lot of heartbreak, but there was also this great community spirit that really shined through."
content of the article
Kitts lost around 40 trees on her own property but avoided damage to her home, she said. Others weren't so lucky.
Today, as Kitts drove down her street, she said she still sees houses with the roof partially removed from storm damage. Some farmers are still dealing with significant damage to their barns even as winter sets in.
There are signs of hope, like Kitts' friend who recently put up the scaffolding of a new barn, she said. But the legacy of the storm is still felt – at least in Navan.
"You probably drive by a damaged barn every day when you're in this wooded area," Kitts said.
The delays in repairs have frustrated Kitts, who after the derecho passed a motion asking the province to activate the Disaster Recovery Assistance for Ontarians (DRAO) program. However, the program applies only to province-designated jurisdictions, and the province has not included Ottawa on that list.
content of the article
"I would say my optimism is fading at this point," Kitts said. "[It is] very disappointing that the province could not help the residents of my area."
Another frustration for Ottawa residents trying to get past the Derecho is the difficult process of applying for storm damage insurance. The derecho was the sixth-costliest weather event in Canadian history, the Insurance Bureau of Canada said, but many Ottawa residents struggled to get their insurance company to cooperate.
For those not fighting to be compensated for repairs, a lasting legacy of the derecho is its impact on the Ottawa treetops. The city estimates that thousands of trees have been lost on city streets and in parks, in addition to trees felled in forested areas, according to Tracey-Lee Schwets, director of Ottawa's forest management program.
content of the article
"Tree canopy coverage is an important part of the city's green infrastructure and provides a number of benefits for residents and the environment," Schwets said in an email.
Benefits include capturing carbon in the atmosphere, improving quality of life and providing cooling and shading, which lowers energy needs and redirects stormwater runoff, Schwets said.
The city collected aerial imagery data in late June as part of its regular forest canopy tracking. According to Schwets, the data will be made available at the end of 2023.
That fall, the city planted around 100 trees on residential streets and 6,000 trees in six forest areas affected by the derecho. However, Schwets said: "It will probably take decades to restore the lost forest cover."
"Stormy and active": How the storm formed that hit Ottawa on Saturday

A Bad Wind: Four months after a derecho devastated rural Ottawa, farmers still can't rebuild