Kirschbaum: Sometimes the best gift is a new perspective
My father and son taught me about the gifts we receive – and give.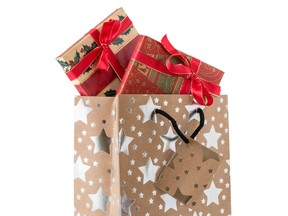 content of the article
There are many special things about the Christmas season. It gets us through the short, dark days of November. It provides opportunities (pandemic aside) to meet up with family and friends. It's an excuse to ask for frivolous gifts that we might refuse at other times of the year. And sometimes it offers surprising new perspectives on old ideas and challenging relationships.
content of the article
When I was about nine years old, I really wanted a gift: a Nintendo Game Boy. Living in Lawrence Park in the 1990s, my childhood was shaped by visiting friends to see the latest toys on display. One of the girls I went to school with went to New York City with her father to choose her FAO Schwartz toys. A Nintendo Game Boy seemed a very reasonable request in this context.
content of the article
But my parents were practical people. My mother was raised by a mother who lived through the economic crisis. And my father's stories about Christmas gifts seemed tragically cheerless: He asked for a hockey stick a year and got a watch instead. I asked about the Game Boy. I was hoping for the Game Boy. I prayed for the Game Boy. But my expectations were low.
content of the article
The holiday came on time, and it was time to open gifts. Among those I received this year was a small box that, while not exactly the right size for a Game Boy, seemed promising. Hopeful, apprehensive, and slightly skeptical, I opened it to find that my father hadn't bought the Game Boy he wanted, but had gotten me another handheld video game called Air Wars, which had apparently been purchased at Radio Shack.
He looked so pleased when I removed the plastic cover from the actual game. My heart sank and I thought every unkind thought I could think of of my parents not getting the holidays right. Resigned, I learned to play the game, and I often secretly played it in my desk during math class, which I loathed, but the story lived on in my head as a disappointment. It's become a weird one over the years, but it was a disappointment nonetheless.
content of the article
Then, this year, when I asked my son what he dreamed of in terms of Christmas presents (determined as I am to right the mistakes of my childhood), I found myself telling him this story. I really wanted a Nintendo Game Boy, they said. I did not understand it. Instead, I got a military game (my father, who had been in the Air Force, mistakenly thought it was a good idea) and I learned to play it, and it was fine, but not what I wanted.
My son was very attentive to this story. His eyes sparkled. And he said do you still have the game? It sounds really cool. I would like to play it.
And in that moment, my feelings for my father softened considerably, and I realized the utter excitement he must have felt when he bought me this toy. The innocence and genuineness of my son's request took the sting out of my memory and gave me a new perspective on my past.
And I think in a way, that kind of experience is what the holidays are all about. As we rush around buying gifts, preparing food, and organizing parties, let's not forget to enjoy the many opportunities there are to see the world and ourselves in new ways.
Alexandra Kirschbaum is the owner of Kirschbaum & Co. She has been working in family law since 2013.
Kurl: Do we really need a government telling us to dress up?

Sutcliffe: A month (and a little) as mayor of Ottawa