Sask. independent oversight body officially launches Jan. 1
The province promises to provide more information in early January.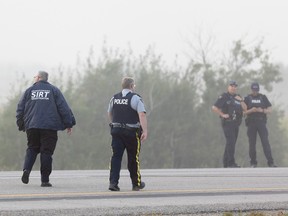 content of the article
Saskatchewan's forthcoming independent police oversight body is a step in the right direction, say two criminology experts, though both have unanswered questions just days before the Saskatchewan Serious Incident Response Team is officially launched.
content of the article
Saskatchewan's SIRT aims to end the practice of police officers investigating serious incidents involving other police officers. From January 1, SIRT will be the investigative arm of the Police Oversight provided by the existing Public Complaints Commission (PCC).
content of the article
Its role is to investigate all incidents involving sexual assault, serious injury or death in police custody or as a result of an officer's actions. It could also investigate whether a law enforcement agency believes an officer's actions resulted in serious injury or death, or whether an officer committed off-duty sexual assault or interpersonal/domestic violence. The Executive Director may open an investigation into other incidents if he deems it in the public interest to do so.
content of the article
Special Police officers will also be subject to SIRT's investigative agency, including conservation officers and security officers from the Provincial Capital Commission under the merged Provincial Protective Services Branch.
The regulations also define the types of serious injuries that would result in a SIRT investigation. These include gunshot wounds, loss of a limb, hearing or vision, fractures of certain bones, and wounds that result in hospitalization.
Erick Laming, an assistant professor of criminology at Trent University who studies police accountability issues, said in an email that the legislation and recent regulations are fairly consistent with those of other similar teams in Canada.
content of the article
However, he finds it strange that the executive director of Saskatchewan's SIRT cannot indict an officer accused of a crime and must refer the matter to the provincial or federal attorney general to make that decision. In five other provinces, the head of police supervision can independently bring charges, Laming wrote.
He said it's also still unclear what types of incidents could lead to a SIRT investigation, such as: B. Police shootings that do not result in serious injury or death.
Laming also questions why Saskatchewan will publish summary reports instead of full reports.
"That is the point of transparency. We already have other SIRTs releasing full reports (e.g. SIU in Ontario), so why does Saskatchewan choose to be semi-transparent on this?" he asked.
content of the article
Christopher J. Schneider, a sociology professor at Brandon University, said it's about time Saskatchewan introduced a SIRT.
He said the language of the regulations is fairly standard, but cautioned that officers under investigation by SIRT must voluntarily provide their notes or explanations to investigators. This policy is consistent with other provinces, but since the police act as agents of the state with the power to use force, they should be treated as such.
"I think when we talk about accountability we're talking about oversight, I think that language is problematic and officers should be required to provide any materials relevant to an investigation," he said.
Laming said he was aware it was a difficult position legally, as an officer who becomes the focus of an investigation could potentially be prosecuted and had the same right to protection from self-incrimination as anyone.
content of the article
Both experts said they were interested in learning more about the investigators themselves, including whether they have previous police experience.
In an email, the Department of Corrections, Police and Public Safety said SIRT has hired four investigators and is based in Saskatoon. Information on the effective date of the changes will be officially announced in January.
The law creating the SIRT was passed in 2021; The rollout was originally expected for fall 2021, but was delayed by more than a year.
In conjunction with the Saskatoon Metropolitan Police, SIRT began investigating the death of the sole suspect in the deadly mass stabbing on James Smith Cree Nation on September 4, Myles Brandon Sanderson, who died on September 7 shortly after his arrest in RCMP custody.
content of the article
SIRT and Regina Metropolitan Police are also investigating the fatal shooting of 36-year-old Ronald Glen Herman by Saskatoon police during a standoff in late October. Saskatoon Police said Herman was armed and pointed a gun at officers.
The provincial budget for 2022-23 includes $647,000 for SIRT.
A Council Ordinance signed on December 15 sets the first day of the new year as the date when provincial legislation creating SIRT and accompanying ordinances go into effect.
Laming, Schneider: Marshal Service wrong police investment for Sask.

Where is Saskatchewan's promised Serious Incident Response Team?

Bill introduced the creation of a civilian-led independent agency to investigate serious police incidents

Mothers of men who died in police pursuits await planned independent investigative team
The news seems to be coming at us faster and faster. From COVID-19 updates to politics and crime and everything in between, it can be difficult to keep up. With that in mind, the Saskatoon StarPhoenix created one Afternoon headlines Newsletter that can be delivered to your inbox daily to ensure you are up to date with the day's most important news. Click here to login.