Tom Mulcair: Dark days for Quebec anglos
Despite some bright lights, there are too few strong voices on behalf of the community.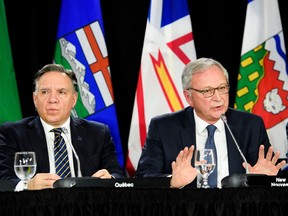 content of the article
As another long year of politics draws to a close, Quebec's English-speaking community is finding it harder than at any time in recent history.
content of the article
When it comes down to it, there is usually a federal government that is able to articulate the importance of respecting minority rights in the official language and is ready to act accordingly.
content of the article
If this has failed in the past, strong, credible voices in the English community could hold government accountable. Unfortunately, there is a lack of such voices today.
After the passage of Bill 96, which violates basic constitutional guarantees such as equal rights for English and French in Quebec courts, the silence of Justin Trudeau's Attorney General David Lametti was deafening. The Liberals' C-13 bill is so poorly designed that it could endanger even the English minority's right to control and administer their school boards.
content of the article
Also of concern to English-speaking Quebecers is that there seems to be increasing dissension between those who seem to prefer an all-French Quebec and those who seem to prefer an all-English "rest of Canada". Premier Legault, meet Premier Blaine Higgs of New Brunswick.
This lack of respect for the two official language minorities could prove extremely damaging to national unity.
Meanwhile, legitimate issues, like the Quebec government's concerns about the impact of immigration numbers on our province's weight in Parliament, are drowned out in the increasingly partisan struggle over language and identity.
There were occasional bright lights on the linguistic horizon. Rep. Marc Garneau articulated a thoughtful critique of C-13 that earned him the standard reproach Legault reserves to anyone who dares disagree with him: you don't get it.
content of the article
Hundreds of leaders in the Anglophone community signed a well-crafted letter compiled by the Quebec Community Groups Network. It was a one-shot pistol that gave zero results.
Gone are the days when the community could come together and execute a plan that would lead to positive action. What is needed now are young leaders capable of forging aligned relationships with all parties in the new political landscape, as well as with francophone opinion leaders. Understandable frustration within the community has led some journeymen to revert to unfocused grievances without an effective voice channeling current concerns.
In Ottawa, C-13 was held up in committee by opposition filibustering and amendment efforts by Montreal MPs like Anthony Housefather. This may actually give time to click reset. Let's hope Trudeau uses it wisely.
content of the article
Quebec Finance Minister Eric Girard, who is also in charge of relations with Anglophone Quebecers, remains the best channel for thoughtful dialogue with the Legault government. He needs convincing, objective information about the actual impact of the Avenir Québec coalition's policies if there is to be any hope of change.
Gabriel Nadeau-Dubois is another potential ally. After an election campaign in which he took a firm stance against the CAQ's narrow-mindedness on immigration, Nadeau-Dubois has voiced legitimate reservations about Legault's nomination as chief French language commissioner. One can only hope that GND will stick to this fundamental opposition longer than the oath to the monarchy.
content of the article
As for the Liberals of Quebec, who would form the official opposition and would be the community's most obvious allies, they were a total gong show, saying one thing and the opposite day after day, particularly regarding the appointment of this language officer. It becomes embarrassing to watch. Still, one feels a great deal of empathy for the high-profile cohort of liberal MNAs. You deserve better. Let's hope the party pulls together and calls for a leadership race early in the new year.
Tom Mulcair, a former leader of the federal NDP, served as Minister of the Environment in the Liberal Quebec government under Jean Charest.
Opinion: Ottawa's language law would do long-term harm

Response: Federal official language law gives cause for concern

Robert Libman: Ottawa's new language law is worrying for Quebec Anglos