New Jersey arts and entertainment news, features, and event previews.
MESSAGES | FEATURES | PREVIEW | EVENTS

From Spotlight Central, photos from Love Imagery
originally published: 12/24/2022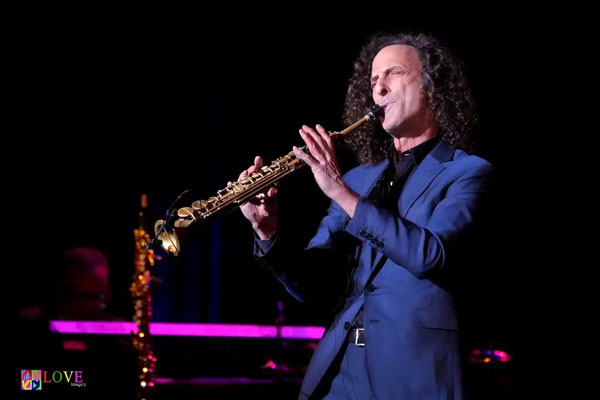 Christmas is in the air this Sunday, December 11, 2022 at the State Theater New Jersey in New Brunswick, NJ as music lovers of all ages prepare for a Miracle vacation and hits Concert by saxophonist Kenny G.
In the historic STNJ auditorium, Kenny G takes to the stage before the concert begins to announce, "During my show tonight I will be giving away one of my saxophones."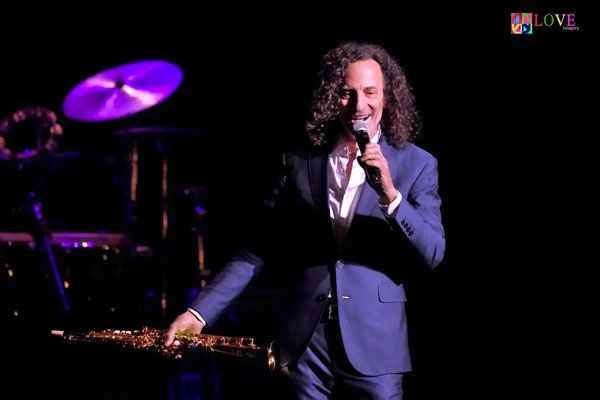 He invites viewers to buy tickets for a raffle where the prize includes not only a soprano saxophone designed by Kenny, but also an invitation to come on stage and be serenaded by Kenny.
State Theater President and CEO Sarah Chaplin thanks the audience for supporting the live performance as concert-goers queue down the aisles to purchase raffle tickets as they wait for the show to begin.
The lights dim and Kenny G's band – keyboardist Robert Damper, guitarist John Raymond, drummer Daniel Bejarano, percussionist Ron Powell and bassist Vail Johnson – take their places on stage.
Advertise with New Jersey Stage for $50-$100 per month. Click here to get more information
---
The crowd cheers as the spotlight shines on Kenny G, who is standing in the center of the front part of the auditorium, playing "Loving You" on his soprano saxophone.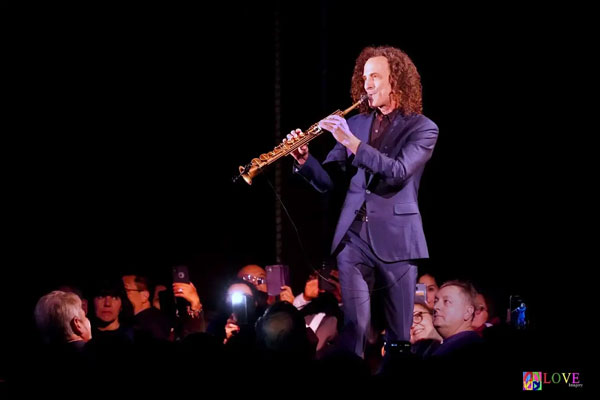 Concert-goers cheer to show their appreciation for the rich, full sound that surrounds them, before Kenny G takes a bow from his seat in the audience.
As his soprano sax flutters with fast runs that dance through the theater, Kenny challenges the band to play "Silhouette" with him.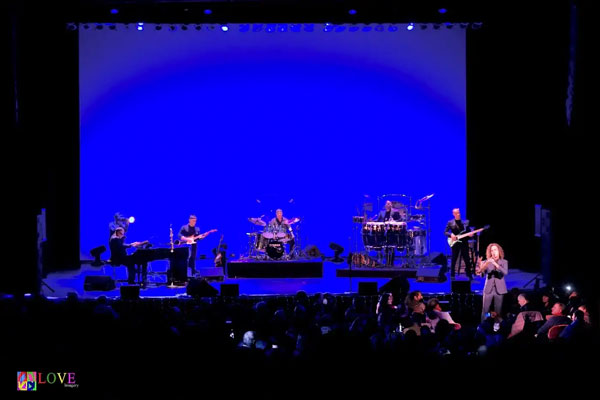 Music lovers in the crowd recognize the tune and watch with rapt attention as Kenny's dexterous fingers fly up and down and around his instrument.
Kenny holds up an incredibly long note that elicits cheers before punching fans in the audience.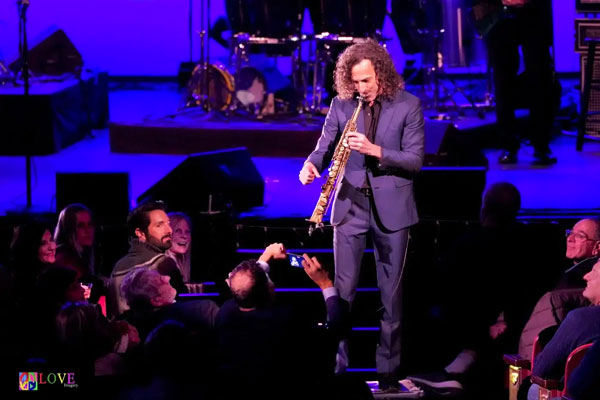 Kenny moves from the theater aisle to the stage while still holding the same long note, continuing the song on stage with amazing accuracy and range. The music levitates as it hops around rhythmically before ending on a sustained high note that descends into a flurry of jazzy runs, drawing enthusiastic applause from music lovers in the crowd.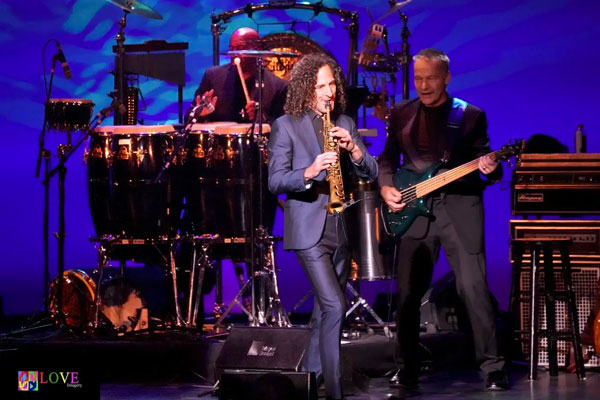 Colored lights dance to the beat of the melodic jazz tune "G Bop" before a large illuminated Christmas wreath is lowered from the ceiling and Kenny and the band perform a festive arrangement of "Deck the Halls" and "The Twelve Days of Christmas."
Concert-goers cheer and Kenny replies, "Thank you!" Kenny reveals that he still plays the same soprano sax he played in high school and goes on to admit that his backup band has been together for almost 40 years and that he and keyboardist Robert Damper even performed together in their high school jazz band. After pointing out that all of the musicians in his ensemble learned how to play instruments from their public school music teachers, Kenny thanks the audience for coming out to support live music tonight.
Kenny and company kick off with "Havana," a Latin-influenced song that features John Raymond playing a Carlos Santana-inspired electric guitar solo, drummer Daniel Bejarano demonstrating his powerful and fast embroidery work, and Ron Powell percussion with his hands and elbows plays , and fingers. The crowd claps along as Powell descends the stage to dance with a large tambourine while bassist Vail Johnson takes over the drums. Powell speeds up and slows down the beat, inviting the audience to echo-clap rhythms while adding pounding and singing sounds to his performance. He then dances while improvising and doing tricks on his instrument – spinning and catching his tambourine to enthusiastic cheers and applause.
After "Forever in Love," an easy-flowing soprano sax ballad, Kenny holds up a tenor sax to announce, "Right now, we're turning the Staatstheater into a 1960's jazz club." Kenny G explains, "Our next song will be a full one improvisation without an ending already worked out," Kenny G tenor plays on Stan Getz's bossa nova tune "Desafinado." Robert Damper is heard in a dissonant chordal piano solo that morphs into a cascading melodic solo that includes excerpts from The Girl from Ipanema. Increasingly quickening damper solos on piano, John Raymond responds on guitar and Kenny G impresses on tenor, while the arrangement ends with whistles and cheers.
After a jazzy rendition of "I'll Be Home for Christmas," Kenny says, "We're going to completely change the style now," and he and the band whine about a funky version of Average White Band's "Pick Up the Pieces." The ensemble meets the driving beat and Damper's organ calls while Kenny's tenor sax answers. Soft and funky, Vail Johnson solos with quick fingers and dances while clapping, gliding and swaying notes on his electric bass guitar to enthusiastic cheers and applause.
Advertise with New Jersey Stage for $50-$100 per month. Click here to get more information
---
Kenny G introduces his band members before announcing Doreen from Maplewood as the winner of today's soprano sax sweepstakes. Doreen takes a seat on stage with her husband Ira and the pair are serenaded by Kenny while he plays "Anthem" just for them before handing them the saxophone and posing for photos.
Sparkling lights and piano begin a smooth jazz arrangement of "Winter Wonderland" that will have music lovers singing along. Walking bass and tasty guitar, piano and percussion accompany Kenny's soprano saxophone in this airy performance that keeps the audience swept along to the beat.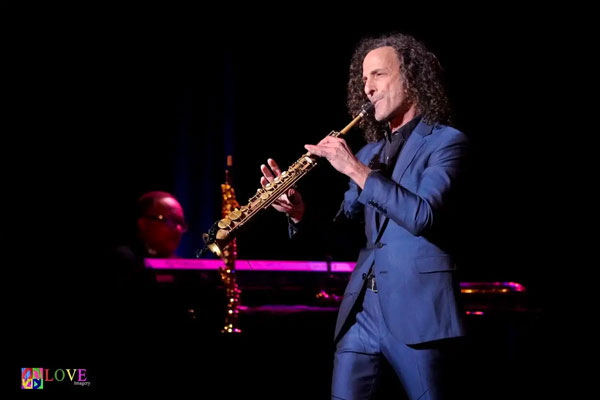 After revealing, "This next song isn't easy to play," Kenny lists the introduction to "Sleigh Ride." As the arrangement progresses, the audience realizes the difficulty of Kenny's task as his band members begin to double-time accompaniment. The musicians pick up speed with each verse that follows as Kenny plays his soprano at lightning speed, drawing cheers and roars from the ecstatic crowd.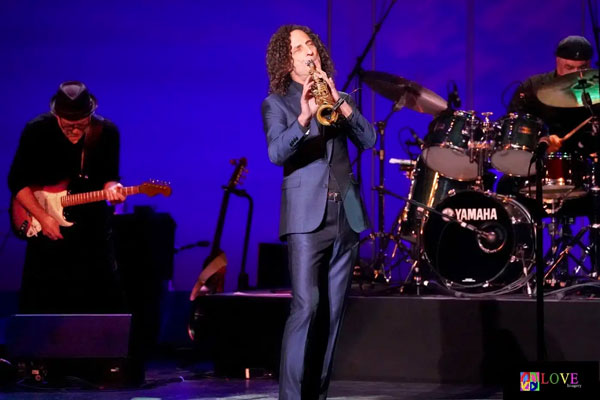 After "Saxoloco," an upbeat jazz song with an upbeat melody, the band members exit the stage, leaving Kenny alone to play a soprano saxophone "Cadenza," in which he masterfully improvises with fancy fingerwork and circular breathing, eliciting cheers from the audience .
The full ensemble returns to join Kenny in a performance of his 1986 Top 5 hit "Songbird."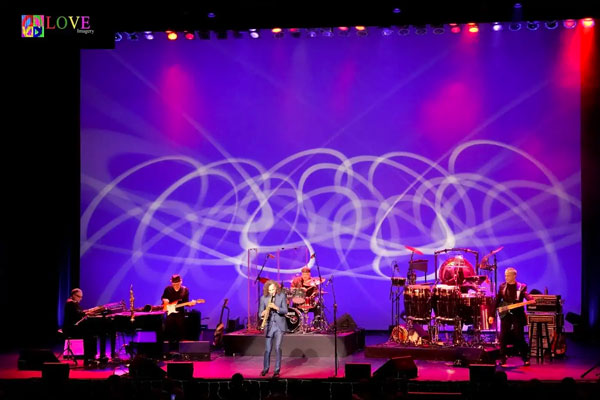 He and the band close tonight's show with their rendition of "My Heart Will Go On." titanic Lights shine over the musicians as the audience rise and Kenny and the band bow together and wave good night to the crowd.
As the concertgoers exit the STNJ auditorium, we catch up with several who share their thoughts on Kenny G.'s performance tonight. Collin from Accokeek, MD states, "I'm a huge Kenny G fan and his concert tonight was great! This is the second time I've seen him and his band was amazing. I especially liked the percussionist and Kenny G was amazing – his playing is really impressive!"
While Charles from southern Brunswick claims: "I loved this show! It was beautiful and very inclusive. Not only was Kenny G playing – he made his band shine," claims Pat from South Brunswick, "It was a very engaging performance. The band was great and I love how Kenny G interacts with all ages and generations."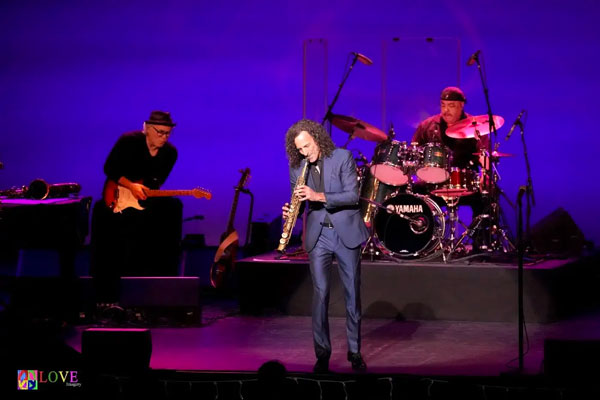 Joe Light, a co-sponsor of tonight's concert, says: "This is the second time I've seen Kenny G and he put on a great show. He's a great performer who makes everyone feel like he's playing just for them." Co-sponsor Jim Kershner agrees, adding, "He's very nice and open with the audience, and the rest of his band is wonderful too – they are all longtime friends, which is not often found these days. "
Doreen from Maplewood, winner of the soprano sax, admits: "I just love Kenny G! Coming here tonight was a Christmas present and I was so excited to win I burst into tears," before admitting, "I'll never forget that night." Doreen's husband Ira adds, "It It was a great evening. We have seen Kenny G for the fifth time. We love him and his music."
Finally, from Somerset, Marilyn claims: "I loved this show! It was wonderful – amazing – and absolutely exceeded my expectations. I loved everything about it," before exclaiming, "I didn't want it to end!"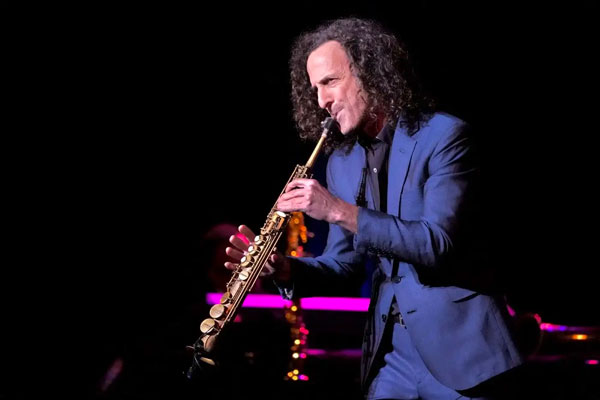 To learn more about Kenny G, please visit www.kennyg.com. For information on upcoming shows at STNJ in New Brunswick – including Linda Eder on January 22nd, Boyz II Men on February 10th, America on March 3rd and Patti LuPone on March 25th – please visit stnj.org.
Photos by Love Imagery
Spotlight Central. Your source for Jersey entertainment news and reviews
love pictures art photography. everything you need. Peace/Love/Flower/Power