Where do cruises go from New York?
Royal Caribbean cruises from New York sail to a variety of destinations, from quaint Quebec towns to the lush, tropical landscapes of the southern Caribbean.
Cruises from New York operate year-round and are a convenient option for those living in the Northeast. A variety of Royal Caribbean ships depart from the port each year, from smaller Vision and Radiance class ships to modern Quantum and Oasis class ships.
An important note is that Royal Caribbean's "New York City" cruise port is not actually in New York. Cape Liberty Cruise Port is located in Bayonne, New Jersey just minutes from Newark International Airport.
Related: Guide to Cruises from New York
Let's dive in to find out where cruises go from New York to help you plan your next cruise from Cape Liberty.
Canada & New England
In the summer and fall, cruises to Canada and New England depart from Cape Liberty. While it may not be the tropical paradise you'll find further south, a Canada and New England cruise brings charming cities, fascinating history and delicious cuisine to explore.
The shortest cruises you'll find from Cape Liberty to Canada and New England are 4 and 5 night itineraries. 4-night cruises visit Halifax, Nova Scotia, while 5-night itineraries visit both Halifax and Saint John, New Brunswick.
When you book a 9-day Canada and New England itinerary, you'll have the option to visit additional ports in the Northeast, including Boston, Portland (Maine), Bar Harbor, Halifax and Saint John.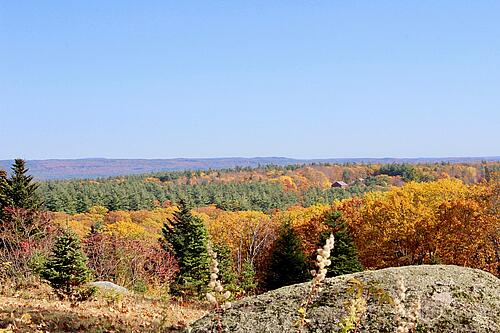 The Northeastern United States and Canada is famous for its fall foliage, and you shouldn't miss the opportunity to take a fall foliage cruise from Cape Liberty.
These 10- and 11-day cruises visit a variety of ports in the United States and Canada that vary by itinerary:
Bar Harbor, Maine
Portland, Maine
Saint John, New Brunswick
Sydney, Nova Scotia,
Charlottetown, Prince Edward Island
Saguenay, Quebec
Corner Brook, Newfoundland
Fall foliage cruises are one-way itineraries and sail from Cape Liberty to Quebec City (and vice versa).
Bermudas
Many people are surprised to find out that Bermuda is over 900 miles north of the Caribbean Sea. Despite the island's many white-sand beaches and turquoise waters, Bermuda is closer to North Carolina than it is to the Bahamas.
For this reason, Bermuda is a frequent stopover on cruise routes from the Northeast during the summer months. You can find 4 and 5 night cruises from Cape Liberty to Bermuda. 4-night cruises visit the island for just one day, while 5-night itineraries include an overnight stay in Bermuda.
Related: Why you should take a cruise to Bermuda
Caribbean
Traveling to the Caribbean from New York isn't as convenient as from Florida, but you can still find regularly scheduled Caribbean cruises departing from Cape Liberty.
Due to the distance between the Northeast and the Caribbean, you will not find any Caribbean cruises from Cape Liberty shorter than 6 nights, with most between 7 and 9 nights.
Bahamas
Bahamas cruises from Cape Liberty are typically 7-night itineraries and visit Port Canaveral, Perfect Day at CocoCay and Nassau. You can also occasionally find 8-night itineraries with either an additional sea day or a port day in Miami.
Eastern Caribbean & Bermuda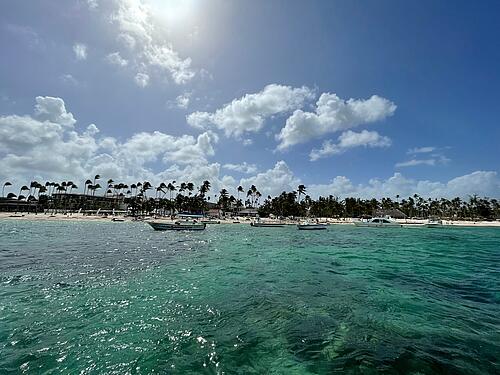 Although the Bahamas offers a relaxing tropical getaway, a trip further into the Caribbean can bring more exotic ports and even warmer temperatures.
9-night Eastern Caribbean itineraries are offered from Cape Liberty, which have four ports of call and four days at sea. Ports include Bermuda, Labadee, La Romana, Puerto Plata, Nassau, Port Canaveral and Perfect Day at CocoCay.
Southern Caribbean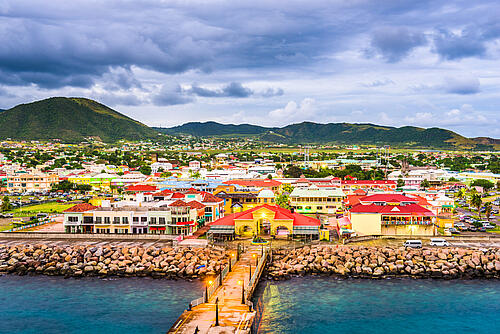 Although not as frequent as Bahamas cruises, you can find the occasional Southern Caribbean cruise from Cape Liberty. Travel time from the Northeast to the Southern Caribbean can take time, and you'll find five days at sea and five days in port on these itineraries.
Depending on the itinerary, ports may include Puerto Plata, St. Thomas, St. Maarten, St. Lucia, St. Kitts, San Juan and Antigua.
Related: Best shore excursion in any Caribbean cruise port
Reposition cruises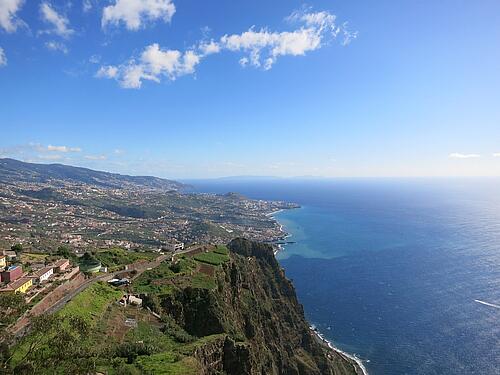 If you're looking for a longer cruise itinerary from New York, consider a repositioning cruise. Repositioning cruises occur when a cruise ship moves from one port to another, such as when ships move to Europe for the summer season.
Transatlantic cruises depart from New York each year in late spring. Departing from Cape Liberty, these cruises call at the Azores, Madeira, France, Spain and/or Italy before reaching their new home port in Europe.
Transatlantic cruises from Cape Liberty last between 11 and 15 nights and you should expect plenty of sea days en route to Europe.
In addition to transatlantic itineraries, you'll occasionally find relocation cruises from New York to other North American ports as ships change homeports from Cape Liberty to ports in Florida or San Juan.
Looking for more information on Royal Caribbean destinations? Start here: