Canadian House Price Index Falls for Fifth Straight Month in November
As interest rates continue to weigh heavily on the minds and purchasing power of many Canadians, national home prices continued their downward trend in November, marking a fifth straight month of decline.
This is according to the latest Teranet-National Bank Composite House Price Index, released yesterday, which tracks observed or registered house prices in 11 CMAs: Victoria, Vancouver, Calgary, Edmonton, Winnipeg, Hamilton, Toronto, Ottawa-Gatineau, Montreal, Quebec City and Halifax. When calculating the index, all objects that have been sold at least twice are taken into account.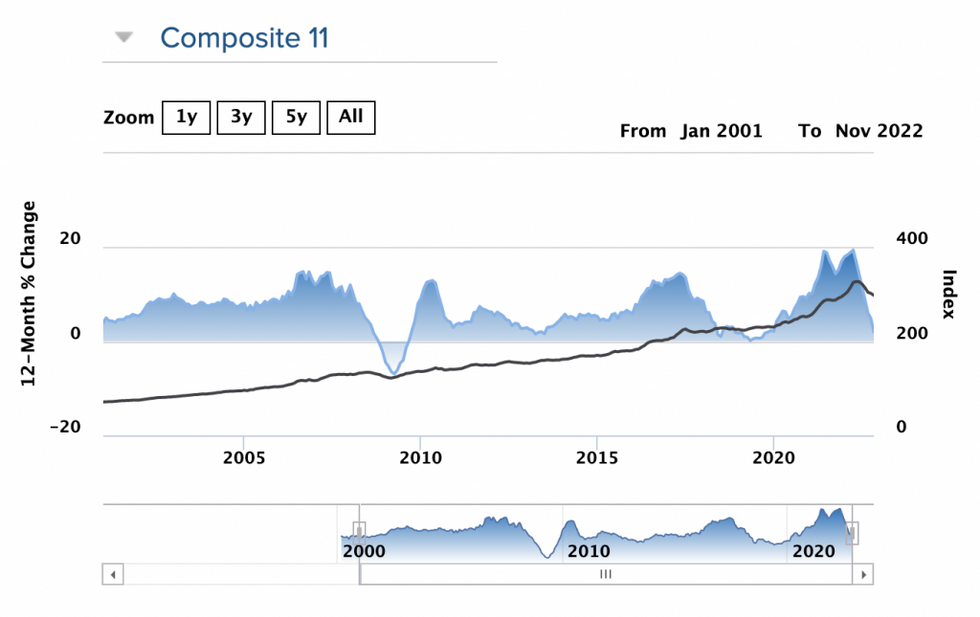 Teranet data for November shows that the pre-seasonally adjusted national composite index fell 1.3% from October to November. November's drop was significantly larger than the 0.8% plunge seen in October – but it was nowhere near the record-breaking 3.1% drop seen in September. Seasonally adjusted, the index fell by 1.1%.
Of the 11 CMAs surveyed, eight saw their indices fall month-on-month. The sharpest declines were in Montréal (-2.2%), Hamilton (-1.9%) and Vancouver (-1.5%). Additionally, price declines were observed in 13 of the 20 CMAs not included in the composite index, with the largest declines in Kelowna (-4.7%), Trois-Rivières (-4.0%) and Guelph (-2.4 %) were recorded.
On the other hand, Halifax, Victoria and Edmonton saw their indices rise 1.6%, 0.9% and 0.3% respectively in November. Of the off-index CMAs, Belleville, Peterborough and St. Catharines were up 5.9%, 3.5% and 2.5%, respectively. The report also notes that both Belleville and St. Catharines posted declines of 6.8% and 4.9% in October.
READ: Majority of Canada's housing markets are now considered 'balanced'
On an annual basis, the national composite index was up 2% in November. November's gain marked the seventh consecutive month that the growth rate was lower than the previous month and the slowest annual growth since November 2019. Calgary saw the most significant annual growth at 14.6%, followed by Edmonton at 7.6% . and Halifax with 6.2%. Positive annual gains were observed in 12 of the 20 non-index CMAs, with Trois-Rivières and Sherbrooke posting the strongest annual gains at 12.3% and 11.0%, respectively.
Meanwhile, the index held steady in Toronto and fell 0.9% in Hamilton. Oshawa, Windsor and Kitchener — not included in the index — posted annual declines of 2.9%, 2.4% and 2.0%, respectively.
Zakiya is a staff writer at STOREYS. She has covered real estate for Post City Magazine, Apartment Therapy and Curbed. She also writes a quarterly series for a Canadian design publication.
More from the author