Argonauts to open milestone 150th season against the Tiger-Cats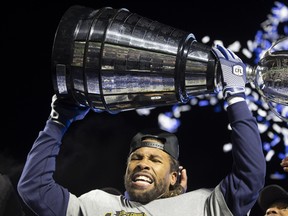 content of the article
The Toronto Argonauts will once again look to step up on a milestone season when they open defense of their Gray Cup championship in June.
content of the article
This will be the 150th season for the Boatmen, which predates the Canadian Football League and is North America's oldest professional sports team still playing under its original name.
content of the article
Not that that would necessarily provide any additional incentive, but the last time the Argos started a historically significant season — 2017, the CFL's 100th anniversary — they also won the Gray Cup and upset Calgary on the home field.
content of the article
The 2023 Gray Cup is slated for Tim Horton's Field in Hamilton, but there's work to be done before then for head coach Ryan Dinwiddie and Double Blue as they attempt to reshape a veteran roster through free agency and the draft.
It all begins on Sunday, June 18 when the Argonauts open their regular schedule at BMO Field against their arch-rivals, the Tiger-Cats.
content of the article
The CFL officially released its 2023 schedule on Thursday, and here are some highlights from Toronto's perspective:
♦ The Argos open at home for the second straight week after a bye in Week 1 and will host the Ticats on June 18th. This is the fifth time in the last 10 seasons that Toronto has opened a season against the Ticats. The 2022 Boatmen Gray Cup champions will be honored before the game.
♦ Toronto's Week 8 game against Saskatchewan on July 29 will be a neutral game but will officially be an Argos home game.
♦ The annual CNE game takes place on August 25th when the Argos take on Calgary at 7:30pm. With a match ticket, fans get free entry to the CNE.
♦ October 6 vs. Edmonton will be a 150th anniversary celebration game.
content of the article
♦ Seven of Argos' eight home games at BMO Field will be night games; three on Sunday evenings, two on Friday and Saturday evenings and a kickoff on Monday.
♦ Bye weeks are in weeks 1, 5 and 11.
♦ The Boatmen's June 1 preseason game against the Ottawa Redblacks will be played at the University of Guelph for the second year in a row. The team will also hold its 2023 training camp there. The first preparatory game will be played in Hamilton on May 27 (4 p.m.).
♦ Toronto will play the Ticats four times in one season for the third straight year. Before the two teams played four times in 2021, there hadn't been that many games between the two rivals since 2012. Toronto is 6-2 in these games for the past two seasons.
♦ The Hamilton Labor Day Classic resumes on September 4th in the 52nd chapter of the traditional clash. The Argos won their first LDC since 2012 last season with a 28-8 win.