Soo Greyhounds OHL Ontario Hockey League Kitchener Rangers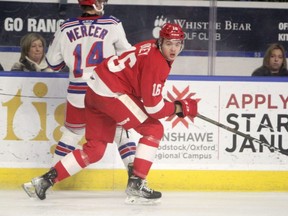 content of the article
There was nothing positive or noteworthy about Friday night's performance in Kitchener as the Greyhounds lost 9-0 to the Rangers at the Memorial Auditorium.
content of the article
"We had no life, no energy, it was very difficult to watch," said head coach John Dean. "Considering we put a lot of value into that game this weekend, losing a game that way is hard to swallow."
When the Rangers came into play, they were on a four-game winning streak. The good spirit was further enhanced as the Blueshirts added a couple of influential players this week, taking on towering defenseman Lleyton Moore from the Oshawa Generals on Tuesday and Francesco Arcuri from the Kingston Frontenacs on Thursday. Arcuri scored once and added an assist while Moore picked up two assists on Friday night.
In the end, the Hounds couldn't match the energy and positivity that Rangers came into the game with and wowed the 6,187 crowd.
content of the article
And that was nine goals worth of bad news.
"Our team needs to play with energy, taking away time and space," Dean said. "If we don't do it, it's not pretty."
The Hounds also made a trade of their own Thursday, sending their 8th-round pick in the 2023 draft and their 3rd-round pick in the 2026 draft to the Niagara IceDogs for Brenden Sirrizotti. The right winger was the top scorer for the IceDogs before the trade, scoring seven goals and adding 14 assists in 23 games played.
The 19-year-old Whitby resident started on a line with Bryce McConnell-Barker and Kalvyn Watson.
"We're hoping to give him a chance at McConnell-Barker and see if there's some chemistry there," Dean said. "He's an experienced player, very confident with the puck and he can really shoot the puck. I'm disappointed that we had to use him in a defeat like that, but we're happy to have him."
content of the article
The nine-goal difference was their biggest loss this season and the first time the Hounds (10-12-4-4) have been faded out in 30 games.
"I'd say that was one of our worst efforts this year but I think we just have to learn from it with a big one (Saturday's game against the Guelph Storm)," said captain Bryce McConnell-Barker.
The recent track record suggests the Hounds will bounce back with an improved performance.
Since Nov. 27, the Hounds have lost two games when they came nowhere near their best — a 10-6 decision against the Hamilton Bulldogs and a 7-2 decision against the Oshawa Generals — only to fall back the next day to recover and win both opportunities.
"We're definitely going to be motivated," McConnell-Barker said. "Saturday's game is a big game and we need to get that win."
content of the article
Samuel Ivanov accepted the loss, allowing five goals from 19 shots. Landon Miller went the rest of the way and was relieved to stop eight of 12 shots.
Francesco Pinelli, Cameron Mercer, Matthew Sop, Francesco Arcuri, Carson Rehkopf, Adam Zidlicky Hunter Brzustewicz, Trent Swick and Reid Valade scored for Rangers (14-13-0-0). The Rangers now sit seventh in the Western Conference rankings with the Hounds.
Marco Constantini stopped 22 shots for his second shutout of the season.
The Rangers went 3-6 on the power play while the Hounds were faded out on three occasions.
Saturday's puck drop against the storm is scheduled for 2pm at the Sleeman Centre.
Game summary
1st period: Kitchener, Pinelli 19 (Reid Valade, Deer Head), 13:14 (PP).
content of the article
Punish: Cloutier Soo (roughing), 13:01.
2nd period: Kitchener, Mercer 1 (Fishman, Moore), 2:37. 3, Kitchener, Sop 6 (Pinelli, Motew), 14:20. 4, Kitchener, Arcuri 24 (Pinelli, deer head), 16:15 (PP). 5, Kitchener, Rehkopf 15 (Pinelli, Moore), 18:42 (PP).
Punish: Zidlicky Kit (high stick, high stick), 2:50; Clattenburg Soo (boarding), 15:04; Montroy Soo (high sticking), 15:04; served by Mignosa Soo (too many men), 17:26.
3rd period: Kitchener, Zidlicky 5 (Sop), 2:51. 7, Kitchener, Brzustewicz 2 (Pinelli, Arcuri), 12:25. 8, Kitchener, Swick 7 (Andonovski, Motew), 13:20. 9, Kitchener, Reid Valade 9 (Schmidt, Motew), 17:35.
Punish: Zidlicky Kit (hold), 4:00; Ryan Thompson Soo (sticking high), 15:32; Toms Soo (high sticking), 18:09.
Shots on goal: Sault Ste. Marie 6-7-9-22. Kitcheners 10-9-12-31.

Powerplay Opportunities: Sault Ste. Marie 0 / 3; Cooker 3/6.

goalkeeper: Sault Ste. Marie, Ivanov 6-6-2-2 (19 shots-14 saves); Miller 0-0-0-0 (12 shots-8 saves). Kitchener, Costantini 10-8-0-0 (22 shots-22 saves).