Sting rally from two-goal deficit to down Firebirds
Marcus Limpar-Lantz scored the third-period winner on Friday as the Sarnia Sting defeated the Flint Firebirds 4-3.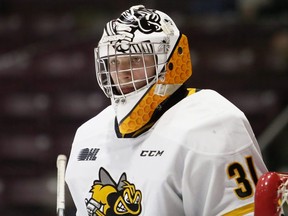 content of the article
Clean health is high on Sarnia Sting's wish list for Christmas.
content of the article
Injuries and illness have piled up for the team since captain Nolan Dillingham was injured in the season opener.
Despite missing key players in every game, they've managed to stay above .500 and contend for a top-four spot in the Ontario Hockey League's Western Conference.
The Sting Brain Trust has not wavered in its preseason belief that the team is a championship contender.
This week's trades in defender Christian Kyrou and forward Sasha Pastujov last month show that Sting is all in.
"They've been very impressive through that injury streak to be honest," said general manager Dylan Seca. "I think it (the Kyrou trade) just reminds them that we're not kidding. We believe in this group. We will continuously give them more and more tools to play with.
content of the article
"I think it also sends the message of getting healthy, staying healthy, doing the right things because if you do that, this should be a team going very deep into the playoffs."
The Sting began their vacation break Friday after rallying to beat the Firebirds 4-3 in front of a crowd of 2,832 at the Dort Financial Center in Flint, Michigan.
Marcus Limpar-Lantz scored at 12:57 of the third period to make it 3:3.
Pastujov, Chandler Romeo and Kyrou scored in the second period as Sting turned a 2-0 deficit into a 3-2 lead.
Kyrou has two goals and one assist in two games since being acquired by the Erie Otters for Alexis Daviault and five draft picks.
"Getting a player like Christian is exciting for our dressing room, for our fans, for our city," said Seca.
content of the article
The front office can take steps to strengthen the lineup but players have yet to produce, he added.
"We can't play the games for them and we often tell them that," Seca said. "It's up to you. It's up to our leaders to have an expectation, to hold up to that standard and to be prepared. I think we've seen that for the better part (of the season).
The Sting (16-10-4-2) are fourth in the conference with 38 points, three more than fifth-place Firebirds and Owen Sound Attack. They are four points behind first place finisher Saginaw Spirit.
Sting goalie Nicholas Surzycia started for the seventh straight game on Friday and stopped 31 shots.
Amadeus Lombardi scored twice for the Firebirds, Riley Piercey added one and Nathan Day made 33 saves.
content of the article
The Firebirds thought they'd taken a 3-0 lead at 9-12 in the second period, but Gavin Hayes' goal was waved off due to keeper interference.
Ninety seconds later, Pastujov started the Stings' comeback with his 20th goal.
Romeo scored his first goal of the season at 15:01 and Kyrou put the Sting ahead at 16:13 when he defeated Angus MacDonell with two opponents. Lombardi's second goal at 17:46 sent the teams tied 3-3 at the break.
Sting forwards Marco Sikic and Cooper Way have both hit career milestones. Sikic played his 150th game of the regular season and Way his 100th game.
Sting defense attorneys Ryan Mast (upper body injury) and Josh Hoover (ill) remained absent. They've played a total of three games since November 2, all by Mast. Both are making "really good progress," said Seca.
Seca is relying on the holiday break. He's hoping to attend both Friday, December 30 at 7:05 p.m. at the Progressive Auto Sales Arena and Saturday, December 31 at 4:00 p.m. at the Budweiser Gardens for the annual New Year's Eve Home and -Home series with the London Knights are back
"Those two weeks are probably the weeks it will take them to get ready for these games in London," he said.
The Sting are missing goalie Ben Gaudreau and forward Sandis Vilmanis against the Knights. They will play for Canada and Latvia respectively at the Junior World Championships.