The Weather Network – Sea-effect could give parts of Atlantic Canada a snowy Christmas
Parts of Atlantic Canada will experience a Christmassy snowfall after a boisterous storm that swept through the region on Friday.
Windy conditions and coastal flooding continue on the east coast while a blockbuster winter storm raging across North America is finally beginning to subside.
Cold air blowing in behind the storm will bring sea-effect snow over the Maritimes and Newfoundland in time for Christmas, with the possibility of a white Christmas in some areas after all.
---
MUST SEE: A widespread storm sweeps across North America, affecting millions ahead of Christmas
---
The howling winds that swept across the Maritimes on Friday night finally calmed down somewhat towards Saturday morning.
While Environment and Climate Change Canada (ECCC) waived all wind warnings in the region, last-minute travelers and shoppers are being greeted by stormy conditions in the Maritimes. Gusts of 60-80 km/h are possible in coastal areas throughout Saturday.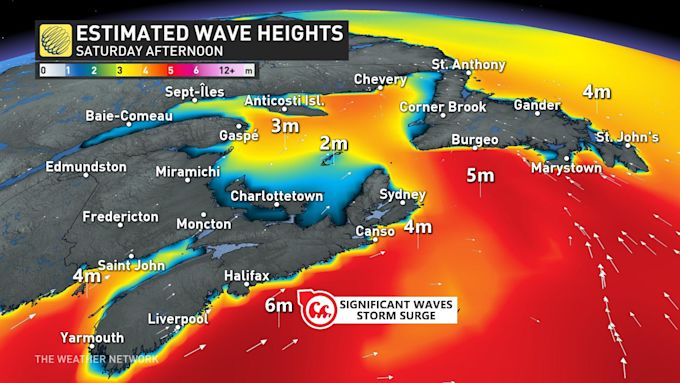 RELATED: Thousands without power as Nova Scotia feels the effects of strong winds and rain
Coastal flooding remains a threat for some communities who have struggled with the storm's sustained winds in recent days. High water levels and waves of 3-5 meters high cause beach erosion and damage along the coast.
Storm surge warnings continue Saturday for Digby and Yarmouth counties in Nova Scotia and the north shore of New Brunswick.
"Large waves and pounding surf will create higher than normal water levels along the coast, particularly near high tide," ECCC said in its storm surge warning for Yarmouth.
"These large waves can cause damage to coastal infrastructure, particularly in locations that have been vulnerable to impacts from similar events in the past."
A storm surge warning also remains in effect for the south coast of Newfoundland, including hard-hit Port-aux-Basque, where the storm will flex its muscles through Christmas Eve.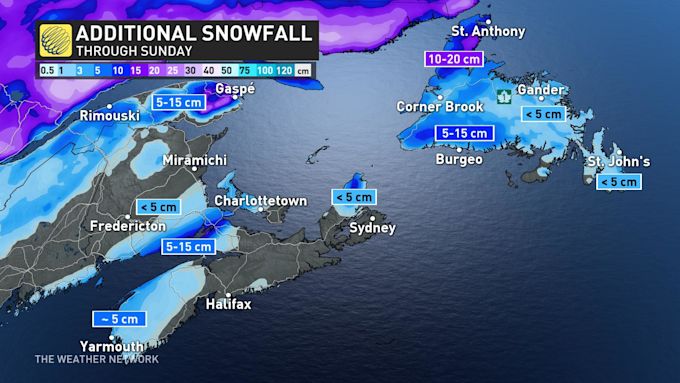 DON'T MISS: The "magic number" that ensures a white Christmas across Canada
Heavy rain and wintry precipitation that hit Newfoundland early Saturday morning will continue throughout the day across the island. Warmer air moving in from the south will gradually turn the wintry mix to rain for most of the island in the late afternoon hours.
Colder air swinging in behind the departing storm will cause sea-effect snow bands to form in the Maritimes and Newfoundland beginning Saturday afternoon and lasting into Sunday evening in some areas.
The greatest opportunity for lake snow in the Maritimes will spread over the Fundy Shores and parts of Nova Scotia and Prince Edward Island. These bands will stretch into western Newfoundland into the evening hours of Christmas.
WATCH: Hundreds of thousands without power as snowstorm hits Ontario and Quebec
Stay tuned to The Weather Network for the latest weather conditions in Atlantic Canada.