LILLEY: Allowing 7-Eleven to sell booze a welcome step for Ontario
It won't be every location and you won't be able to snag a six-pack to go, but you'll be able to get a drink with food in some stores soon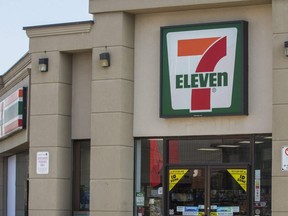 content of the article
Sometime next week a customer at a 7-Eleven in Leamington, Ont. buy the first beer or wine on the corner and the world won't end.
Ontario is taking a tiny step to finally allow beer and wine in corner shops.
content of the article
On Friday, 7-Eleven announced that the Leamington location had received an alcohol license from the Alcohol and Gaming Commission of Ontario. However, you won't be able to stop by and take home a six pack of beer or a bottle of wine, this will be an alcohol sale for dine-in customers.
Confused?
See, 7-Eleven advertised itself as a restaurant, which is how the chain sees itself now, according to Marc Goodman, VP and general manager of the Canadian operation.
"Fresh food drives our business," Goodman said in an interview. "We sell more fast-service food than anything else."
content of the article
It will not be every place that offers beer and wine, only places with enough space for a seating area where customers can eat.
Goodman gets poetic about the fried chicken, fresh sandwiches, and other dishes that go well beyond the Big Bite hot dog on offer and the 7-Eleven down the street from me.
RECOMMENDED VIDEO
Eventually, Goodman hopes to have about 50 licensed locations across the province, and while he'd appreciate his stores being able to sell alcohol to go like they do at nine Alberta locations, it's a decision for the province. He said the locations getting licenses for now will be the more restaurant-like locations, which go through the same process as any other facility with inspections and community advice.
content of the article
"With the addition of beer and wine, we're excited to offer our adult guests a complete dining experience," said Goodman. "We will have plenty of local and craft beers, wines and coolers."
Being able to walk into certain 7-Eleven locations and have a beer while eating is a far cry from what Premier Doug Ford promised during the 2018 campaign. Sure, it's a step in the right direction, it's taking Ontario out of what's left of our prohibition mentality on alcohol, but it's still a far cry from what's allowed in Quebec, Alberta, or many American states.
Ford is not the first politician to promise and not keep this promise.
RECOMMENDED VIDEO
As he tried to make good on his promise in 2018, he faced claims that a breach of contract with The Beer Store — a private entity, not a provincial agency — would cost the province more than $1 billion. The Beer Store signed a 10-year deal with the Wynne government in 2015, in which they agreed to upgrade storage and expand their role in the province's recycling program in exchange for their continued near-monopoly in selling beer in certain sizes and sizes sizes to be made packaging.
content of the article
They fought hard against Ford's move at the time and eventually won because the province shelved their plans.
Since then, however, the pandemic has erupted, and to help restaurants survive, the province allowed purchases of take-out alcohol with meals. Using an app on my cell phone, I can not only order beer and wine with the meal, but also have an overpriced bottle of whiskey, gin or vodka delivered to me.
All of these steps to treat Ontario citizens like adults when it comes to alcohol are very welcome, but there is still a long way to go. The convenience store industry – be it 7-Eleven, Circle K or your local independent – all wants the opportunity to sell alcohol responsibly, and they should get it.
It will just take more time and maybe another round of negotiations with The Beer Store as their contract expires in 2025.