Flood of goals: Blades bust open for 8-5 win over Chiefs
It was the eighth straight win for the Blades, who improved their record to 23-5-0-0.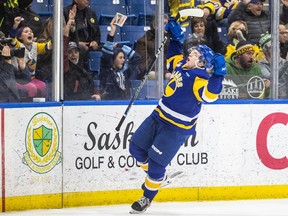 content of the article
In the third half, goals came fast and furiously between the Saskatoon Blades and the Spokane Chiefs.
content of the article
The teams scored ten goals in the third period as the Blades defeated the Chiefs 8-5 in the Western Hockey League at the SaskTel Center on Friday.
content of the article
It was the eighth straight win for the Blades, who improved their record to 23-5-0-0. The Chiefs fell to 6-21-0-2.
Brandon Lisowsky led Saskatoon with a hat trick and two assists for five points. Egor Sidorov and Aidan De La Gorgendiere each added a goal and two assists.
Trevor Wong, Justin Lies and Blake Gustafson also scored his first goal of the season for the Blades, who led 2-0 and 3-0 on points.
Former Prince Albert AAA Minto Chase Bertholet scored twice for Spokane, who overtook Saskatoon by 27-24 and went 2-3 on the power play. Saskatoon was 0-for-3.
content of the article
Saskatoon native Berkly Catton had one goal and two assists for the Chiefs. Tommaso De Luca and Brayden Crampton added singles.
Austin Elliott stopped 22 of 27 shots for the win.
Dawson Cowan made 16 saves for Spokane.
BLADE BITS: The announced attendance was 4,357… Three stars were 1) Lisowsky, 2) De La Gorgendiere and 3) Catton… Next action for the Blades is Saturday night in Regina against the Pats, who will be without Connor Bedard.
Blades win seventh straight, steamroller over Tigers

Slalom or scoring goals, Tyler Parr can do it all

Gustafson is at the top of the plus-minus department

Berkly Catton Pick is the crème de la crème
The news seems to be coming at us faster and faster. From COVID-19 updates to politics and crime and everything in between, it can be difficult to keep up. With that in mind, the Saskatoon StarPhoenix created one Afternoon headlines Newsletter that can be delivered to your inbox daily to ensure you are up to date with the day's most important news. Click here to login.