The Weather Network – Dangerous cold, snow likely as Arctic front looms for Western Canada
Snow will fall from the Pacific Coast to the Qu'Appelle River this weekend as an arctic front invades western Canada. Some communities can cope with heavy snow accumulations through Sunday, but that's just a prelude to the bigger story to come next week.
Behind this arctic front lurks a dangerous cold draft that will sweep through western Canada in the days leading up to the first official day of winter. This will be a sustained period of very cold temperatures, with readings that could dip into the -40s in places.
---
DON'T MISS: Could a cold run-up to Christmas bring snow to Canada?
---
Atmospheric floodgates will swing open this weekend, sending bitterly cold air south across the western half of Canada.
This pattern shift will first arrive on Saturday when snow spreads across much of British Columbia, Alberta and Saskatchewan. Snowfall will continue into Sunday in many areas.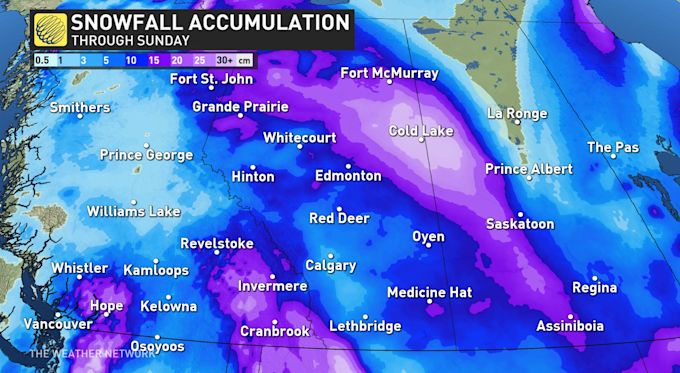 In communities in BC's lower mainland, precipitation begins as rain or a rain-snow mixture before transitioning to snow late Saturday as colder air arrives. This will provide an opportunity for accumulations across Victoria and Metro Vancouver.
BC's highest snowfall totals will largely follow the terrain, with higher totals falling over higher elevations.
Snowfall levels will vary widely across Alberta and Saskatchewan, with the largest snow accumulations expected in northern Alberta and the western half of Saskatchewan. Some communities could see up to 30cm of fresh snow by Sunday.
The arrival of bitterly cold temperatures will result in much of this snow taking on a very fine and powdery consistency.
Light and fluffy snow isn't great for snowballs, but it's far easier to shovel up or even sweep away—a task that will take on some urgency before conditions make spending much time outdoors downright dangerous.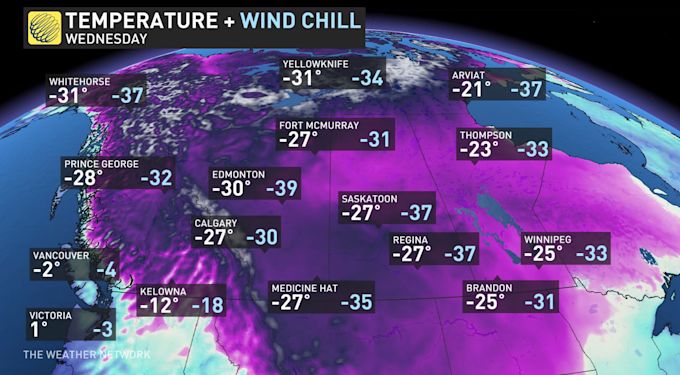 STAY SAFE: Understand the warning signs of frostbite
Temperatures will drop steadily behind the arctic front as we head into the week leading up to Christmas. Several days of freezing temperatures are possible around Metro Vancouver, but the worst will develop on the prairies.
Daily highs will struggle to break out of the minus 20s for much of Alberta and Saskatchewan throughout the week.
The coldest temperatures are expected in the middle of the week when people could endure temperatures below -30°C and possibly even down to -40°C or below during the nighttime hours. Any wind makes the temperatures appear even colder.
Air temperatures this cold threaten the health and safety of anyone who spends too much time outdoors. Frostbite on exposed skin can occur in as little as two minutes when temperatures or wind chill levels drop to -40 or below.
The extreme cold is expected to ease in time for the Christmas weekend.
Find out about the upcoming snow and dangerous cold weather across western Canada.