More than $500K owing for COVID ticket fines in Sask.
Of the 885 charges brought under the province's health law, 257 resulted in a conviction. So far, fines totaling $120,460 have been levied.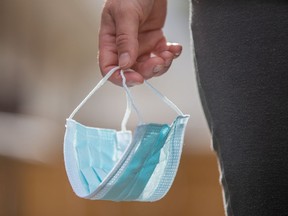 content of the article
More than half a million dollars in fines for COVID-19 violations in Saskatchewan remain unpaid, new data from the Saskatchewan Department of Justice shows.
content of the article
As of November 30, $535,478 in fines and penalties from the province's Public Health Act convictions for violating public health orders issued during the pandemic were outstanding. A total of 885 charges were filed under the law.
content of the article
All public orders ended at midnight on February 27, but the charges brought while the restrictions were in place continued to work their way through the justice system.
By the end of November, 257 charges had resulted in a conviction. Fines were recovered in full from 48 convictions and partially from 13 convictions, for a total of $120,460.
Fines were voluntarily paid for six of the charges brought before the court.
The ministry said unpaid fines could be sent to the Canadian Revenue Agency or a collection agency if not paid within 91 days of the payment deadline.
content of the article
Another 322 charges are awaiting a court date and decision, while another 306 have either been withdrawn, were void or lost jurisdiction.
Public health orders were issued early in Saskatchewan during the pandemic. The orders, aimed at preventing the spread of COVID-19, included restrictions on gathering sizes and the requirement that masks be worn in public spaces.
These restrictions were lifted in July 2021, but a new health regulation came into effect in September 2021. The new regulation included a mask requirement. Additional requirements to demonstrate vaccination or a negative COVID-19 test to access certain venues followed.
None of the health regulations are currently in force.
content of the article
Most Sask. COVID fines unpaid; withdrawn tickets outnumber convictions

COVID-19: Virus levels fall in Saskatoon, remain stable in Regina

Researcher archives Sask. Twitter as part of the COVID-19 history project
The news seems to be coming at us faster and faster. From COVID-19 updates to politics and crime and everything in between, it can be difficult to keep up. With that in mind, the Saskatoon StarPhoenix created one Afternoon headlines Newsletter that can be delivered to your inbox daily to ensure you are up to date with the day's most important news. Click here to login.