Murray Mandryk: Scott Cat had cheese for all in Mouseland this year
They were all black cats now who spent a surprising amount of time hissing and clawing at whoever was really the blackest.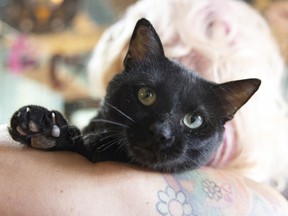 content of the article
A Mouseland Christmas: Based on the original fable by TC Douglas and updated to reflect Saskatchewan politics in December 2022.
content of the article
Scott Cat stood on the balcony of the Great Marble Palace, hauling a block of cheese as far as he could.
content of the article
The mouseland critters cheered wildly, so he crouched another. And another. And another.
Meek or wild, rich or poor, scrawny or clumsy as a body-shamed Christmas goose, soon every mouse land animal that had gathered under their leader's balcony this snowy Christmas Eve would be getting their cheese.
Carefully measured out in allotments of 500 mouse-dollars, everyone got the same amount – just enough to make the poorest animal rich, but not so meager that the fattest mouse country cats could simply ignore it.
But what fat cat has ever passed up a bunch of free stuff thrown out by someone in government?
Scott Cat grinned from cat-moustache to cat-moustache, delighted in his generous generosity, as if the cheese he threw was his own and not already from the poor critters struggling to heat their burrows or light their lamps.
content of the article
The leader of Mouseland hadn't felt this cheerful in a long time.
Flashback to Christmas Eve last year, when all manner of Mouseland creatures protested under his balcony – some honking their horns like mad loons for sealing off Mouseland to stop the disease, while others screeching at him like night bats for not doing more.
Many who demanded he do more were mice, although mice were angry at anything the cat government did. Mostly they were just angry because they sure felt like the cat government would be there forever. Poor Carla Mouse, the newest mouse leader, who some considered the mouseiest of all mice.
So they protested because what else could poor mice do? After all, sometimes it was more important for a mouse to be seen protesting than whatever issue they were protesting about.
content of the article
Mouseland was now teeming with all sorts of other creatures. There were ducks and chickens and ground squirrels tilling the soil and ranting most violently about the white, fluffy Persian cat named Justin, who taxed her fuel, took her guns and – perhaps worst of all – brazenly tested her water.
There were Bunnies carrying their hugs, and coyotes and weasels constantly lobbying the government for more cheese for fat cats. There were turkeys and cows and donkeys still stubbornly bellowing about their freedoms and rights to horse vaccinations.
Creatures from all over God's green earth that had found a new home in Mouseland. There have even been sightings of Loch Ness monsters as fictional as that kingdom.
If you've stretched your imagination to point out Scott Cat being able to see a nation within a nation, you might even have seen dinosaurs roaming among the other living creatures this year.
content of the article
And there were cats. Lots and lots of cats. Like Scott Cat, they were all black cats now who spent a surprising amount of time hissing and clawing at whoever really was the blackest. My goodness how black cats love to claw and claw.
There have always been a lot of hissing cats in Mouseland, so named by an old church mouse named Tommy. Tommy Mouse discovered that if the white cats and black cats kept fighting among themselves, there were just enough mice in Mouseland to form a government.
About 25 years ago, the white cats (as they were) and the black cats teamed up to form the oddly named Mouseland Party. Then the black cats drove all the white cats out of the party.
Only two white cats remained in Mouseland, although most believed that they were really just confused mice.
content of the article
In the five years since he replaced the grinning Cheshire Cat Brad, whose portrait now hung in the Grand Marble Palace, things hadn't always gone perfectly for Scott Cat.
But this Christmas Eve, Scott Cat smiled at his bounty. The crowd cheered as he tossed them another block of cheese.
Mandryk is a political columnist for the Regina Leader-Post and the Saskatoon StarPhoenix.
Mandryk: Mouseland is wracked with anger this Christmas Eve

Mandryk: A very socially distanced Mouseland Christmas
Want to know how we decide what to cover and how editorial decisions are made in the Saskatoon StarPhoenix and Regina Leader post? Get the weekly newspaper Editor's letter Newsletter from Editor-in-Chief Russell Wangersky and join the discussion on what's behind reporting news and providing commentary, both in print and online. Click here to login.